Our Redwood City Handymen Specialize in Everything


Unless you had your home custom built, you moved into a space that wasn't built with your exact needs in mind. That means there may be areas where a small improvement can make a world of difference. Our Redwood City handyman service specializes in exactly this type of situation.
Pet Doors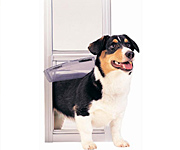 If you are a pet owner, you might want to take advantage of a pet door. Installing a pet door in an existing kitchen or garage door can be tricky depending on the material that the door is made from.
Our handymen have put pet doors into everything from hollow core doors to steel-reinforced models. The key to this install is maintaining the integrity structure and insulation while still allowing the pet door to function properly. We know all of the tricks to make this happen.
Kitchen Space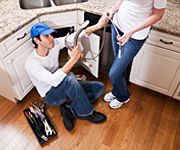 Are you forever looking for more storage space in the kitchen? Our service techs have done several different types of custom cabinetry installation. We've installed spice rack pull drawers in tight areas that seemed to be dead space, added kitchen islands, extended cabinets and even redesigned pantry areas with custom shelving.
Our Redwood City handymen will come up with the right solution for you whether it's a hanging pot rack or magnetic knife strip.
Lazy Susan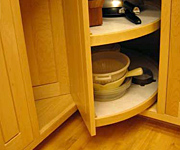 Another major kitchen upgrade that we do is installing lazy-Susan cabinets. While these are usually used in corner cabinets, a lazy-Susan can be installed in any existing cabinet.
This is extremely helpful in hard to reach upper cabinets. This way, you never have to climb in a stool to reach the items in the back of the cupboard.
Insulation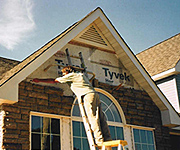 One of the other solutions that we spend a lot of time on is insulation. A home can lose up to 40% of its heating and cooling efficiency by not having properly sealed ductwork, windows and attic areas.
We go through your entire home and seal leaks with thermal tape, caulk and insulated batting.
This type of interior work can virtually pay for itself in a year.
Water Savers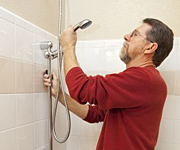 If you are looking to save some money on your water bill, there is a surefire way to do it. Add some low-flow showerheads and aerators to your faucets. Our techs do this upgrade all the time. We can even install new low flow toilets to help cut your water use almost in half.
Our Redwood City handyman service has helped customers reduce their water usage by as much as 70% just through changing out outdated fixtures with new ones!
Call us today: 650-381-9733